Making traditional Neapolitan pizza sauce from scratch is easy! This is probably the easiest pizza sauce recipe you've ever tried, and it can be done in less than 5 minutes.
Neapolitan pizza sauce is all about quality ingredients. And you only need a few simple ingredients to make a great sauce: sweet tomatoes, fresh basil leaves, quality sea salt, and a good extra virgin olive oil.
Neapolitan pizza is traditionally baked in a hot, wood-fired oven. The pizza sauce is therefore not boiled before it's added to the pizza. So all you need to do to make the authentic Neapolitan sauce is to combine the ingredients, and spread the sauce on your pizza.
Neapolitan Pizza Sauce Recipe
This recipe makes tomato sauce for 4 pizzas potion-sized pizzas of 30 cm (12 inch), but you can easily adjust it yo your needs.
Ingredients:
One 400g (14oz) can of whole, skinless tomatoes (preferably San Marzano tomatoes)
4g (a little less than 1 teaspoon) of sea salt
3-4 leaves of fresh basil
15g (1 tablespoon) of extra virgin olive oil
Instructions
Add the tomatoes to a mixing bowl, add salt, rip the basil leaves with your hand and add them to the tomatoes. Then, finish off with olive oil. Combine all the ingredients, and there you have authentic Neapolitan pizza sauce!
The sauce will last around one week in the fridge.
Even though this is pizza sauce meant for Neapolitan pizza, baked in a wood-fired oven, it also works great for home oven pizza. But if you're baking pizza in a convection oven, I highly recommend getting a pizza steel. This allows you to bake your pizza at a really high temperature, almost like in a wood-fired oven! If you want to know more about pizza steels, and how to bake Neapolitan pizza at home, check out our article about pizza steels.
Neapolitan Pizza Sauce with San Marzano Tomatoes
The most popular tomato choice for Neapolitan pizza sauce is San Marzano tomatoes. San Marzano tomatoes are a type of Italian plum tomato, originating from the town of San Marzano sul Sarno, near Naples in southern Italy. The tomato has a stronger, sweeter, and less acidic taste than most other types of tomatoes, and is, therefore, the best choice for pizza sauce.
Neapolitan Pizza Sauce – Fresh Tomatoes
Even though you can find fresh tomatoes in the grocery stor year-around, these are often tasteless and and not great for pizza sauce. You can only make pizza sauce from fresh tomatoes when tomatoes are in season. San Marzano tomatoes are at their best between July to September.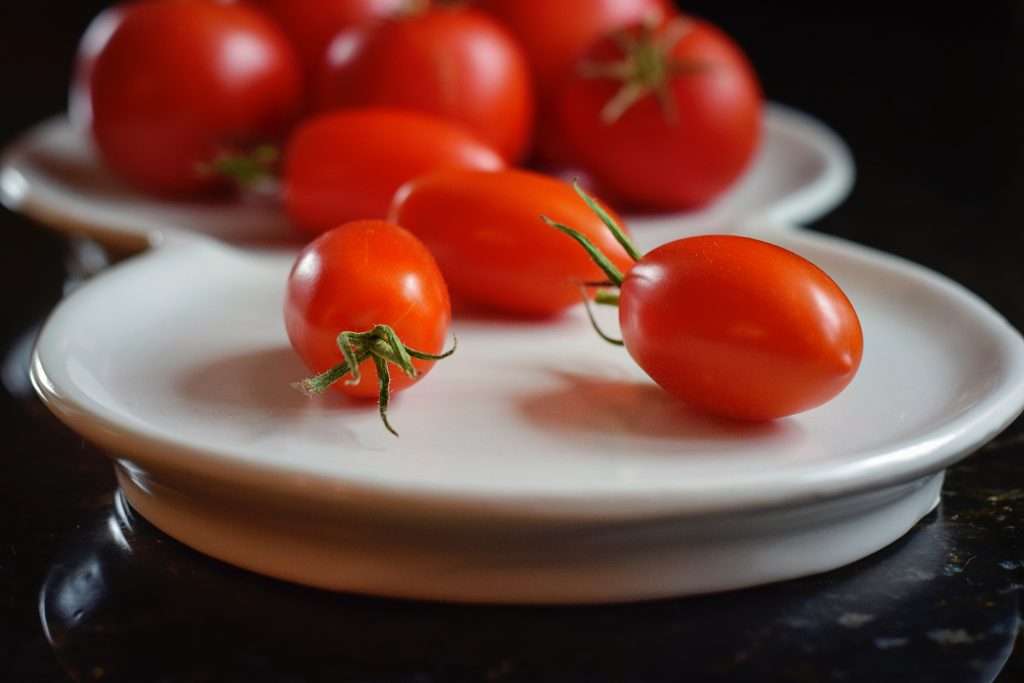 The traditional way to make pizza sauce using fresh tomatoes is using a wide-mesh vegetable mill to mill the tomatoes. This is done to grind the fruit, pulp, and peel of the tomatoes.
Start by cutting off the stems, and dice the tomatoes. Next, mill them in the vegetable mill, add a few basil leaves, salt, and extra virgin olive oil. For exact measurements check the instructions in the recipe below.
It is however very hard to get fresh San Marzano tomatoes outside of Italy. You can use other types of sweet tomatoes for your pizza sauce, but your best bet is canned San Marzano tomatoes.
Neapolitan Pizza Sauce – Canned Tomatoes
Even though San Marzano tomatoes have a fairly long harvest period, they are only available fresh between July and September. So even the pizzaioli of Naples have to use canned tomatoes most of the year. Luckily, the canning process preserves the flavor of the tomatoes very well. Canned San Marzano tomatoes are therefore great for pizza sauce!
You should be looking for whole canned San Marzano tomatoes without skin because then you don't need to mill the tomatoes. Canned tomatoes without skin are so soft that they can easily be squeezed to the desired consistency by hand. You're looking for a saucy consistency with small, soft chunks of tomato.
Next, break up some fresh basil leaves. Then, add sea salt, basil leaves, and extra virgin olive oil to the brushed tomatoes. For exact measurements check the instructions in the recipe above.
What if I Can't Find San Marzano Tomatoes?
If you can't get San Marzano tomatoes, sweet plum tomatoes or cherry tomatoes are great substitutes. They are also a lot cheaper than San Marzano tomatoes.
How Much Pizza Sauce Do You Need?
You don't want to use too much sauce on your Neapolitan pizzas, since this can make the pizza crust soggy. Especially if you bake pizza in your home oven. The general rule is 100g (3.5oz) of tomato sauce for a 30 cm (12 inches) pizza. So a 14.5 Oz can of tomatoes is enough for 4 Neapolitan-style pizzas.